ON AIR MIX is an integrated multi-purpose system for Multimedia Management of TV NETWORKS, VISUAL RADIO STATIONS, SOCIAL and CORPORATE EVENTS, etc. Its ALL IN ONE mode integrates an A/V Mixer, Graphics, Streaming, Play Out system, A/V Player, Base-band Ingest, File based Ingest, etc. Can be deployed as a stand alone system on just one PC or distributing work loads through the network.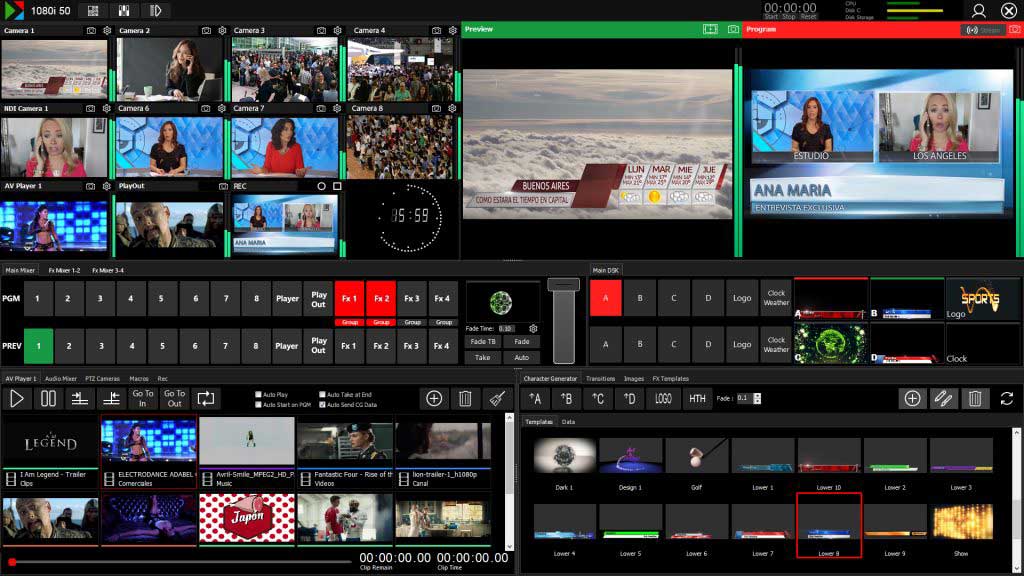 8 Inputs Video Mixer with SDI, HDMI, NDI®, STREAMING (RTSP, RTMP), USB, STILL IMAGES support in any combination.
SDI, HDMI or NDI® + STREAMING RTMP Outputs.
12 Channel Audio Mixer.
2 A/V PLAYERS.
Supports PTZ, SDI and WEB Cameras.
Multiple video resolutions up to 1920x1080i and 1920x1080p
Preview of all inputs and outputs in real time.
Automatic camera switching though GPI, Remote Control or specific Protocol.
Fade IN/OUT.
Unlimited Transition Effects.
Audio/Video Sync Adjustment.
Input and Output Settings Templates.
Manual or Automatic Mode.
Background Setting.
Chroma Key (optional) Green Screen Keying with Live or Still Backgrounds.
Multiple Graphic Layers.
Multiple Picture In Picture.
Remote control with Tablets or Control Panel (Optional).
Effects Mixer.
Unlimited Macro Creation.
External Control with SDK.
Automatic Renaming of Inputs.
Screen Capture.
Recording Mixer.
Customizable Multiview.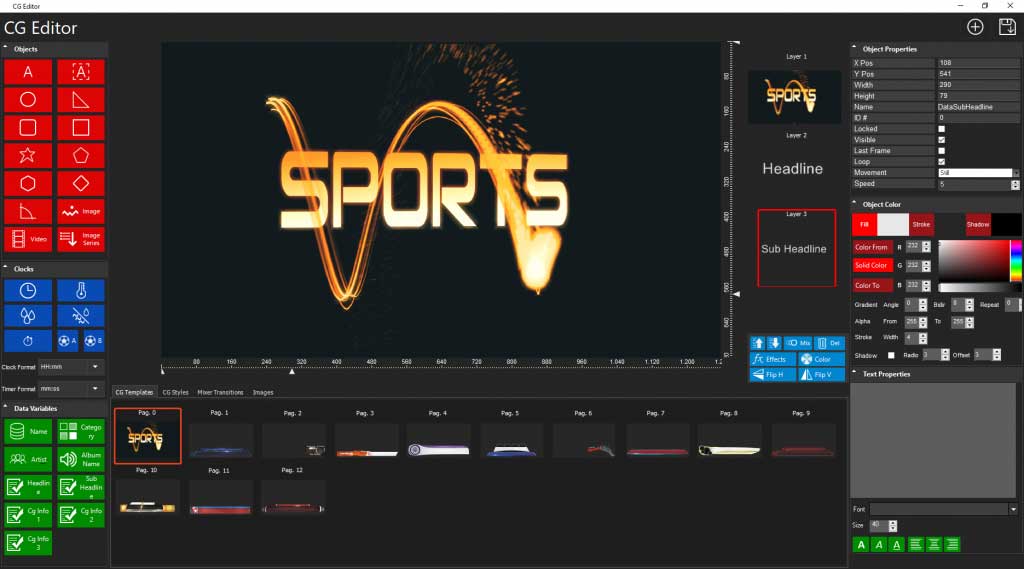 Broadcast Multilayer Character Generator.
Real Time Titles.
Broadcast Graphics in Real Time.
Alpha Channel Videos.
AVI files, PNG and TGA Series Support.
Insert Multiple Graphic Layers on DSK
Time, Temperature, Humidity, Weather Icons.
Animated Logo Insertion.
Timer.
Multiple crawls and rolls.
Branding.
. . .